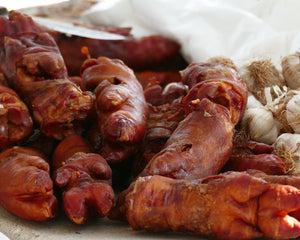 Gnarly Vines Farm
Pork Trotters SALE
Local pigs feet, from Howard Farm. $6.50 lb.
 This article includes a recipe and tips from Serious Eats - " Pigs' feet are an ideal addition to stocks. There's very little meat, but plenty of gelatin in the skin and bones to give body to the liquid.
If you're going to eat them whole, it would be a shame not to crisp the skin. Though the Chinese are fond of braising trotters and eating them off the knuckles, I would argue that there's too much skin and fat around the joints that's soft and uninteresting to eat without the benefit of crisping, either by deep-frying or grilling. Splitting the feet is a must if you're grilling—since trotters are finger-food, you're best off breaking them down into portions that are easily gnawed."

I am pasting the whole article below, but beware, it gives an insiders view into a NY butcher shop before you get to the eating part!  Vacuum-packed & frozen. 
https://www.seriouseats.com/recipes/2010/06/the-nasty-bits-grilled-pigs-feet-trotters-recipe.html
---
More from this collection